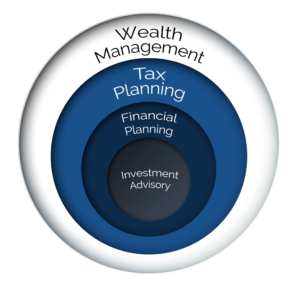 WealthEdge is an INDEPENDENT financial advisory group.  As a fiduciary, we put our client's needs before our own.  Our team of professionals can integrate ALL aspects of your Wealth Management – (Tax & Accounting, Financial Planning, Investment Advisory and Relationship Management), so you can trust that our strategies are designed to keep YOUR best interests in mind. Because TRUST is the foundation for every strong relationship.
Tax Planning – You have a unique and complex financial situation where taxes are your largest expense.  Therefore, ALL of your financial decisions and advice must look at every tax implication.
Financial Planning – focuses on a comprehensive plan that includes ALL aspects of your financial wealth – wealth protection through proper insurance, estate planning, Wills, trust funds, tax efficiency, savings, debt management, inheritance, college funds, and investments.  It involves a personal approach to help individuals define their goals, beyond looking at market trends, and truly understand how those goals can be met through multiple financial strategies.  It is so much more than just selecting the proper portfolio components; it is a true COLLABORATIVE RELATIONSHIP that looks at all the unique financial situations that develop along a lifetime.
Investment Advisory – focuses on long-term goals utilizing detailed portfolio construction that is sensitive to asset allocation, risk tolerance and expected returns.  It is a platform that allows your money to work for you for future goals.
Don't hesitate to contact us.
If you want to send us a message through the contact form, we can get in touch with you.
99 Park Ave, Suite #1920
New York, NY 10016